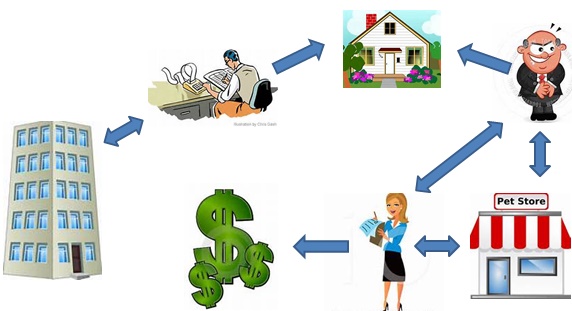 Posted by Douglas Wood, Editor.
I read with interest today an article about the SEC's use of analytics in the ongoing fight against financial crimes. The link to that article is below. It reminded me of some work I once did with a major stock exchange around insider trading.
As a passionate anti-fraud technologist, I was thrilled with the challenge of helping the stock exchange better recognize cases of illegal insider trading. The results of the work we did was pretty cool.
The stock exchange – as do all exchanges – had a great deal of data at their disposal. They knew, for example, the names of each and every 'insider' within every company listed on their exchange. Insiders include senior executives, board members, legal counsel, auditors, and so on.  Basically, everyone who knew – or ought to have known – about an upcoming event that would likely cause a significant change in stock price.
They also knew, of course, the identity of investors who traded profitably prior to the public release of that information. The problem was exposing the hidden relationships that might exist between Insiders and investors.
Here is an actual example… Joe Blow was an associate partner at the independent accounting firm responsible for auditing the quarterly financial results of publicly traded Company A. By definition, Joe is an insider. He knows Company A's financials. Jane Doe dumped her entire position in Company A mere days ahead of what turned out to be very poor results. The stock plummeted, and Jane was saved from significant losses.  She was seemingly a complete outsider. So, did she somehow know Joe Blow (or any other insider)? Or was she just one lucky gal.
Using link analysis, crime mapping, and behavioral analytics, we set about the challenge of finding out. Here's what the analytics exposed:
Joe Blow, the insider by way of being employed at Company A's auditing firm, shared an address with… oh, let's call him "Rich Quick". Rich held no positions with Company A whatsoever.  He did, however, own a pet food store with a lovely young lady.  Can you guess her name?  Yep.. Jane Doe. So, the analytics exposed that Company A had an insider relationship with Joe Blow. Joe lived with Rich Quick. Rich owned a business with Jane Doe. Coincidence? Not likely.
Without the ability to draw out hidden links between individuals and organizations, this case may never have been discovered.  It's like Six Degrees of Kevin Bacon, only with much higher stakes. All of the suspects were investigated and prosecuted.
(Note: All the names in this example are fictitious, but the case is not. If your name happens to be Jane Doe, Joe Blow, Rich Quick… or if you work for an organization called Company A, rest assured that I'm not talking about you.)
Here is the link to the SEC article.  http://fcw.com/articles/2013/09/18/sec-taps-analytics-to-predict-risk.aspx?s=fcwdaily_190913 .