Billy the Kid carved his name into history through his exploits during and after the Lincoln County War.  In a career filled with almost impossible escapes and daring acts in battle, the "Kid" nevertheless found himself on the losing side of the war and, in its aftermath, was branded the West's most notorious and wanted desperado.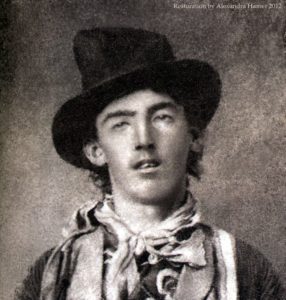 Reportedly killed by Sheriff Pat Garrett in 1881, rumors persisted that the Kid survived, and new evidence developed by Cold West Detective Agency may prove that the Kid lived well into the Atomic Age.
Cold West Detective Agency takes a different and unique approach to history. While historians like to 'study' it, Cold West detectives actually 'investigate' it as a cold case.  Working with law enforcement, Cold West detectives bring distinctive and rare expertise to the investigation of historical cold cases.
Blending old-west footwork with leading-edge investigation case management technologies from Texas-based Case Closed Software, Cold West detectives perform robust investigations at these century-old crime scenes.
Cold West picks up where history left off, and that can make some historians uncomfortable.  It's been said that "dead men tell no tales", but when Cold West's group of hardened investigators combine their expertise and curiosity with Case Closed Software, these investigations come back alive, and history begins to speak its secrets.
Cold West uses the "posse method", utilizing experts from any and every field required to move the case forward.  They work hand-in-hand with local Sheriffs, police, tech experts, federal agents, historians, and other experts, using cutting edge modern crime scene investigative methods (CSI) to develop never before seen and court-accepted evidence that changes history.
"Case Closed Software has been a game-changer for us", said Steve Sederwall the co-founder of Cold West and former federal criminal investigator. "Our ability to blend all of our new investigation findings with all of those historical records helps us identify and develop new tips on our historical cases."

Read a cool BuzzFeed feature on Steve Sederwall and Cold West HERE.
Recently, Cold West – in the midst of investigating another famous old west crime – used Case Closed to develop previously unknown information that could completely change history's view of the case.  That investigation continues today.


"I like to think about how Jesse James or Billy The Kid would react to seeing how the accepted narrative of their demise is being changed through the work of Cold West detectives using modern and leading-edge technology", added Case Closed Software's president Douglas Wood.